Criminal Justice News and Notes
Students Meet Local Criminal Justice Professionals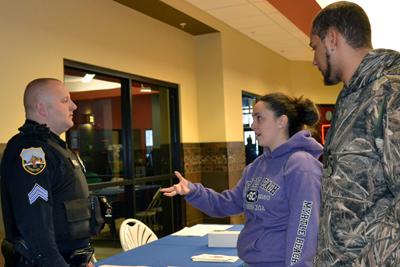 Kayla O'Connell and Shamere Pinn, Criminal Justice majors, spoke with Officer Matt Dearing of the Schenectady Police Department (SPD) recently, discovering what he loves about his job with the SPD. Officer Dearing was one of several law enforcement professionals who gathered at SUNY Schenectady's Center City location during the Criminal Justice and Public Safety Career Experience.
Students met with representatives from local police departments, the New York State Police, U.S. Customs and Border Protection and the U.S. Army Reserve, among others.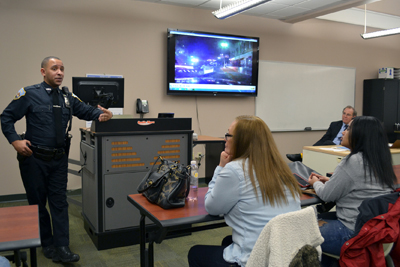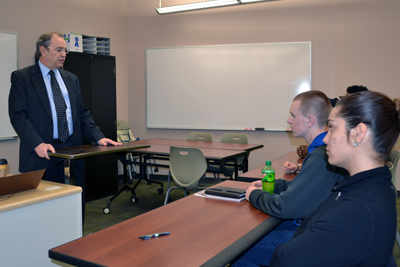 A highlight of the event, coordinated by the Career and Transfer Services Office, was a presentation titled, "In the Line of Fire: Violence Against Law Enforcement" delivered by Schenectady Police Officer Mark Weekes (above, left) and District Attorney Robert Carney (above, right). Officer Weekes discussed his experience after having been assaulted and beaten on the job. D.A. Carney discussed the prosecution of the perpetrator of the crime.
"Officer Weekes spoke realistically about what it means to be a police officer," said Dr. Michael Roggow, Dean of the Division of Business, Criminal Justice and Law. "He doled out plenty of wisdom for our students. He spoke about the value of empathy, to expect the unexpected, and to balance our lives with outside activities that carry meaning for us."
SUNY Schenectady County Community College Establishes a New Agreement with John Jay College
SUNY Schenectady and CUNY's John Jay College signed an articulation agreement on August 1, 2016, at the campus of John Jay College of Criminal Justice in New York City. SUNY Schenectady Criminal Justice graduates who complete an A.S. degree will be accepted into the John Jay College of Criminal Justice Department of Law, Police Science, and Criminal Justice Administration. This articulation agreement will benefit SUNY Schenectady graduates who want to pursue their bachelor's degree at John Jay College with the goal of having a career in law enforcement.
"This agreement presents a tremendous opportunity for our college, and most importantly our graduates," said SUNY Schenectady President Dr. Steady H. Moono. "John Jay College of Criminal Justice has an exceptional reputation within the Criminal Justice field, and we are excited to partner with them to provide a clear, distinct path to success for our students."
"SUNY Schenectady County Community College has an impressive Criminal Justice program, and bringing our programs together provides the opportunity for students to build on the strong foundation that they receive at SUNY Schenectady," said Dr. Raymond Patton, the Director of Educational Partnerships and General Education at John Jay College of Criminal Justice. "An agreement like this is important to students because it ensures that our programs align, so students receive appropriate recognition of their work without missing out on any important learning experiences."