Tutor Services
1:1 Tutor Services is here to support you online!
Information for how to sign up for tutoring can be found below or downloaded here, and is available in Tutor Service, Elston Hall, Room 522.
Welcome to Upswing
SUNY Schenectady's Tutor Scheduling Software

Please note: You are allowed up to 2 hours of 1:1 tutoring per week with an Upswing tutor, Monday – Sunday. There are no restrictions on number of sessions with a SUNY Schenectady tutor!
Set up a virtual session in just a few easy steps:
Go to: https://sunysccc.upswing.io
Log in with your MYSCCC login information (Your portal information)
Click on "Meet with a Tutor"
Search the course you want a tutor for (ex: MAT 147 or Statistics, etc.)
Click on a tutor's name (SUNY Schenectady Tutors will appear first, then Upswing Tutors)
Click the "Online"availability options, then "Select a Time" and verify information:

Date, Time, Duration (Select 30, 60, or 90 minutes)
Note Location: "Virtual Tutoring Center" is an online session
In person sessions are not available at this time
Upload any files/documents in advance so your tutor can view ahead of time
Click "Schedule"
The tutor will receive the request and will respond with an "accept" or "decline." You will receive a confirmation email to your SUNY account or a text message if you've set-up alerts.
Once the session is confirmed, simply attend the session by visiting your "Upcoming sessions" during the scheduled date/time. Be sure to set up text alerts to get a session reminder!
Don't forget to prep for your session. Have questions, your text book, notes, or the assignment you need assistance with ready to go. You are able to upload your documents and share your computer screen with the tutor!
TIPS
If you need general writing help for any course, search and select "Writing Center" when looking for courses/tutors.
If you want to receive text alerts and reminders about your appointments, be sure to update your "Text Notifications" in your account settings!
To make reoccurring weekly appointments, repeat steps 4-7 for each week you'd like to meet with a tutor. Book early to ensure your spot.
Watch these helpful "How To" videos for more assistance with making appointments, how to access an online session, and what a virtual session with an online tutor looks like!
* Once you have scheduled on online/virtual Upswing session, visit your "Upcoming Sessions" section located in the "Tutoring" sidebar and click on the green "Go To Room" button to attend the session.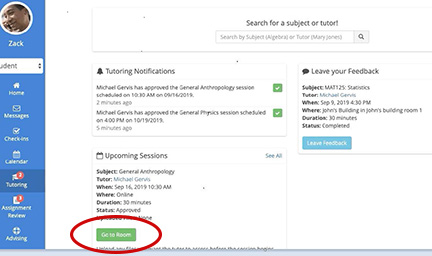 Please contact Academic Services with any questions or problems:
518-381-1249
tutorservices@sunysccc.edu
Please note that by using the Upswing system you are agreeing to the terms found here:
1:1 Tutoring Contract (PDF)