Aviation Science A.S.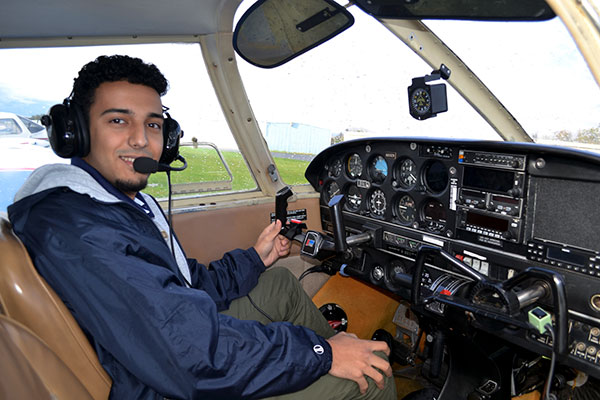 The Aviation Science A.S. degree program provides students with a pilot or non-pilot administration and management option that will enable successful transfer into a baccalaureate program in the field of aviation. The pilot option provides students with substantial experience in actual flight training toward a Private Pilot Certificate, Instrument Rating, and a Commercial Pilot Certificate in conjunction with their A.S. degree. Certified Flight Instructor is available as an elective for enhanced training. Flight laboratories are provided by Five Star Flight Academy and Richmor School of Aviation at the Schenectady County Airport. Laboratory fees can be found here.
The Aviation Science A.S. degree program allows students to investigate various career options in the aviation industry and prepares graduates to transfer to a baccalaureate program by providing knowledge of basic science and mathematics principles and a solid foundation in aviation theory and practice, safety and management.
Admission Requirements: All Pilot-Option students must have an FAA Second Class Medical Certificate (required), FAA First Class Medical Certificate (recommended), proof of U.S. citizenship or completion of the U.S. Office of Homeland Security, Terminal Security Administration background check requirements. To locate an FAA-authorized aviation medical examiner, please visit the FAA's Medical Certification website.
The program prepares graduates to:
Goal I: Demonstrate knowledge of the fundamental principles of aviation.
Identify the essential elements of the national airspace system
Apply federal aviation regulations
Identify the role of airport operations and safety
Identify how history and culture have affected aviation advancements
Goal II: Demonstrate an understanding of aviation theory and practice.
Apply flight safety principles
Use scientific principles including physics and aerodynamics to solve aviation-based problems
Use mathematical reasoning and problem solving to navigate
Goal III: Demonstrate the ability to communicate effectively.
Select and use appropriate professional conventions in oral and written communication
Formulate, analyze and evaluate arguments
Locate, select, evaluate and use information in an ethical manner
For Students in the Pilot Option
Goal IV: Complete flight training.
Acquire a Private Pilot's Certificate, Aircraft, Single Engine Land (SEL)
Acquire an Instrument Rating
Acquire a Commercial Pilot's Certificate, Airplane, SEL
SUNY Schenectady also has a degree program for students interested in Air Traffic Control. Learn about our Air Traffic Control (A.A.S.) degree program.
Degree Plan
See the degree requirements and suggested course sequence for the Non-Pilot Administration and Management Option.
Non-Pilot Option Degree Plan