CRWE Side-by-Side
The Capital Region Wind Ensemble is looking for student musicians!
It has long been the mission of the Capital Region Wind Ensemble (CRWE) to serve as role models for young student musicians. Each year, the CRWE invites music educators to recommend high school students to join us for a concert during the season.
All rehearsals and the concert are held at SUNY Schenectady.
The spring 2023 concert will be held on Sunday, March 26 at 3:00 p.m.
The selected students will play H. Owen Reed's La Fiesta Mexicana side-by-side with the musicians of CRWE. Our featured soloist will be Paul Quigley, guitar.
Fill out the online application. Deadline to apply is Wednesday, January 4.
Students will work with CRWE members in sectionals, rehearse with the full group and
participate in master classes where interested students will be given the opportunity to perform solo literature in a workshop format.
About Featured Soloist Paul Quigley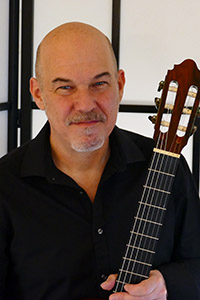 Guitarist Paul Quigley has performed with the Glens Falls Symphony and as concerto soloist with The University Orchestra at SUNY Albany. Other solo and chamber music performances include Troy Music Hall, the Riverside Church Christ Chapel series, Hunter College, The Spanish Institute, and the Oberwald Concert Series in Basel, Switzerland. Additionally, Paul was a featured performer on the Queen Elizabeth II World Cruise and the Queen Mary II and Crystal Symphony ships. Paul is a member of the Finger Lakes Guitar Quartet which has performed at the Cleveland Guitar Society's "Up and Coming Artists" series, Marietta College, Lake Luzerne Summer Music Festival, Zankel Music Center, Keuka College, and the Great Lakes Guitar Society.
Recent performances include works written for the FLGQ including premieres of "Forever Wild", by Evan Mack (written for the FLGQ and the Albany Symphony Orchestra), and "Sonata for Four Guitars" by Brett Wery. A versatile musician, Paul performs electric guitar in the Rock/Blues band "Nite Train with Thomasina Winslow" and is featured on the 2020 recording, "Cat on a Mission".
A graduate of SUNY Schenectady and the Manhattan School of Music, Paul earned the A.S., B.M., and M.M. degrees in guitar performance. He is currently on faculty at Rensselaer Polytechnic Institute, the College of Saint Rose, and SUNY Schenectady.