Men's Basketball
Winter Sports Announcement
After careful thought, consideration, and dialogue, SUNY Community Colleges (27 of 30) that are members of the National Junior College Athletic Association (NJCAA), have collectively decided to cancel intercollegiate competition for 2021 indoor winter sports. At SUNY Schenectady County Community College those sports include women's and men's basketball and bowling.
Welcome to the Royals Men's Basketball Program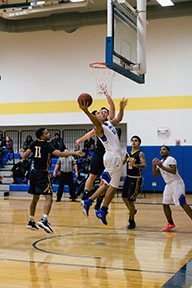 Congratulations to Christian Corker, freshman point guard from Scotia-Glenville, who was selected for the 2019-2020 Mountain Valley Conference 3rd Team All-Conference.
The Men's Basketball program at SUNY Schenectady County Community College is led by Head Coach Harry Rolle. Coach Rolle played for the Royals back in his college days at SUNY Schenectady and was an exciting point guard for the Royals. He brings that same excitement to the sidelines as our Head Coach. The team plays strong defense, presses at every opportunity and plays up-tempo on offense. The Royals participate in the Mountain Valley Conference and Region 3 of the NJCAA. The competition is high, as the Royals face teams including Herkimer College, HVCC, FMCC, and MVCC. The Royals play a full 25-game schedule with the goal of making it to the Region 3 playoffs where the winner goes to the NJCAA national tournament at Sullivan Community College in Loch Sheldrake, N.Y. So if you are looking to join an up-and-coming program, SUNY Schenectady is the right place for you.