Business Administration A.S.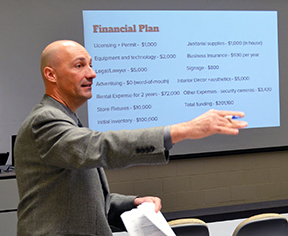 SUNY Schenectady's Business Administration A.S. program is designed for students planning to transfer to a four-year college to earn a Bachelor's degree in Business. Students complete a solid core of general education courses and receive a broad overview of the business field to facilitate successful transfer.
Why start your journey at SUNY Schenectady?
Affordability – At $4,608 per year (New York state residents who show a certificate of residence), SUNY Schenectady is the most affordable college in the Capital Region, and a great place to start your four-year degree. Our transfer degree programs allow students to complete their first two years toward a bachelor's degree, saving students up to $30,000 in college costs[1].
Financial Aid Packages and Scholarships – 78% of full-time students at SUNY Schenectady have financial aid. In 2019-2020, the SUNY Schenectady Foundation awarded scholarships and awards totaling $270,000 to students to ease the burden of tuition, fees and books.
Excelsior Scholarship – Through the Excelsior Scholarship, you may be eligible for free tuition. SUNY Schenectady is a member institution for the state-aid program approved under Governor Cuomo's Free-Tuition Plan.
Transfer Agreements – As a SUNY community college all of our A.A. and A.S. degree programs (transfer programs) satisfy the SUNY Pathways roadmap. Once a student has graduated from SUNY Schenectady with a transfer degree, they will have completed the first two years toward a SUNY bachelor's degree and are guaranteed admission to a SUNY four-year college. Through our transfer agreements with SUNY and private colleges, our students transfer seamlessly as juniors.
The following four-year colleges have recently offered admission to graduates of SUNY Schenectady's Business Administration A.S. program:
Assumption College
Baruch College (CUNY)
Clemson University
College of Saint Rose
East Carolina University
Emerson College
Empire State College (SUNY)
Excelsior College
Fashion Institute of Technology (SUNY)
Florida Atlantic University
Florida International University
Hofstra University
Marist College
Morehead State University
Rochester Institute of Technology
Roger Williams University
Russell Sage College
State University College at Cortland (SUNY)
State University College at Delhi (SUNY)
State University College at Fredonia (SUNY)
State University College at Geneseo (SUNY)
State University College at Oneonta (SUNY)
State University College at Oswego (SUNY)
State University College at Plattsburgh (SUNY)
State University College of Technology at Canton (SUNY)
State University of New York at Binghamton (SUNY)
State University of New York at Buffalo (SUNY)
State University of New York at New Paltz (SUNY)
State University of New York Polytechnic Institute (SUNY)
Thomas Edison State University
Towson University
University of Maryland
University of Texas at Arlington
*indicates SUNY Schenectady maintains an articulation agreement.
SUNY Delhi Bachelor's Degree Programs – Our partnership with SUNY Delhi enables students to pursue their bachelor's degree (BBA) in Business and Technology Management right here on the SUNY Schenectady campus or fully online.
Internships – You will see our students out in the local community and beyond as they fulfill meaningful internships that help them to establish invaluable relationships with professionals in their chosen careers while gaining real-world experience. Students enrolled in the Business Administration A.S. program can also apply for the Disney College Program.
Excellent Faculty – When we ask students what makes their SUNY Schenectady experience special, most often we hear, "I love my professors!" Our faculty are experts in their fields as: entrepreneurs, lawyers, scientists, authors, counselors, pilots, chefs, restaurateurs, law enforcement officers, musicians and recording engineers. They enthusiastically share their expertise with students, from the essentials students need to know, to the latest trends. Our students also appreciate that faculty are approachable and answer their questions. Our professors are truly dedicated to the success of their students and it shows every day in their classes.
A Close-Knit Community and Great Resources – Our average class size is 20. This means that students are able to engage with faculty and other students in their classes and to feel empowered as they grow during their college experience. Outside of the classroom, we offer free tutoring, computer labs, a Learning/Writing Center, free ridership on CDTA buses, Math Lab, Accounting Lab, TRIO Student Support Services, Educational Opportunity Program, ADA Transitions Services, and a Veterans Affairs Office, among others - important resources to help our students succeed.
An Enriching Experience – In addition to an excellent academic experience, SUNY Schenectady also offers athletics with Men's Baseball, Women's and Men's Bowling, and Women's Crew (one of only two community colleges in the country to offer Women's Crew); free membership to the YMCA for students who have paid the student activity fee; and 30 student clubs and organizations, a great way to connect with other students and have some fun!
Ready for a Journey That Will Change You?

Degree Plan
See the degree requirements and suggested course sequence.
Degree Plan
Program Goals and Objectives
Learn more about the Business Administration A.S. program goals and objectives.