Athletics
Welcome to the Royals Athletic Program
At SUNY Schenectady County Community College (SUNY Schenectady) we value and respect the hard work of our students in and out of the classroom-that's why we are proud to offer intercollegiate athletics programs at the College. SUNY Schenectady is open to all students meeting the eligibility requirements of the National Junior College of Athletics Association (NJCAA), the College and Athletics Office. SUNY Schenectady has varsity teams in men's and women's bowling and women's crew as our intercollegiate offerings at the College. We are proud to be part of the National Junior College Athletics Association Region III Conference.
Crew
Our women's crew team is one of only two in the country on the two year level! Our program is well established with over ten years within the program - facing some of the best competition on the East Coast. This past year we qualified for the prestigious "Head of the Charles" regatta in Boston for the first time ever. We have participated in many top regattas including the "Head of the Schuylkill" in Philadelphia, the "Head of the Housatonic" in Connecticut and the "Head of the Mohawk" in Schenectady. If you are looking for a competitive rowing program, become a ROYAL!
Bowling
Our men's and women's bowling teams have both won two NJCAA national championships in the past four years along with many Region 3 and Mountain Valley Conference titles. We participate in a number of invitational throughout the season and rank nationally yearly. If you are looking for a top notch and competitive bowling program, become a ROYAL!
Welcome to the home of the Royals! Please reach out to the Office of Student Affairs if you have any questions of if you would like to receive a recruiting packet for your sport.
The Equity in Athletics Disclosure Act
This act requires co-educational institutions of postsecondary education that participate in a Title IV, federal student financial assistance program, and have an intercollegiate athletic program, to prepare an annual report to the U.S. Department of Education on athletic participation, staffing, and re venues and expenses, by men's and women's teams. The Department will use this information in preparing its required report to the Congress on gender equity in intercollegiate athletics. SUNY Schenectady County Community College is in compliance with the Equity in Athletics Disclosure Act. Annually the College reports information about all our intercollegiate athletic programs. Equity in athletics data is now available to all current and prospective students and the general public on the Web at https://ope.ed.gov/athletics and the Director of Athletics office on campus.
Information For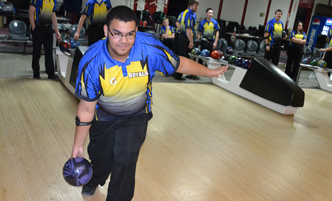 The women's and men's bowling teams are coming off the best four years in the Royals program history.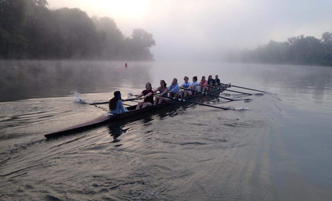 One of only two community colleges in the country with a women's crew program.