Culinary Arts, Hospitality Students and Faculty Collaborate with Feed Albany and Help Tackle Food Insecurity
3/10/2021
Aspiring student chefs in their crisp, white uniforms and enthusiastic hospitality students continue to learn from some of the most talented chefs, educators, and hospitality experts in the area as they return for on-campus instruction this month at SUNY Schenectady. This semester, however, they are also joining a group of restaurant owners/employees, businesses, non-profit organizations, and caring neighbors who are helping those in need through a new collaboration with Feed Albany.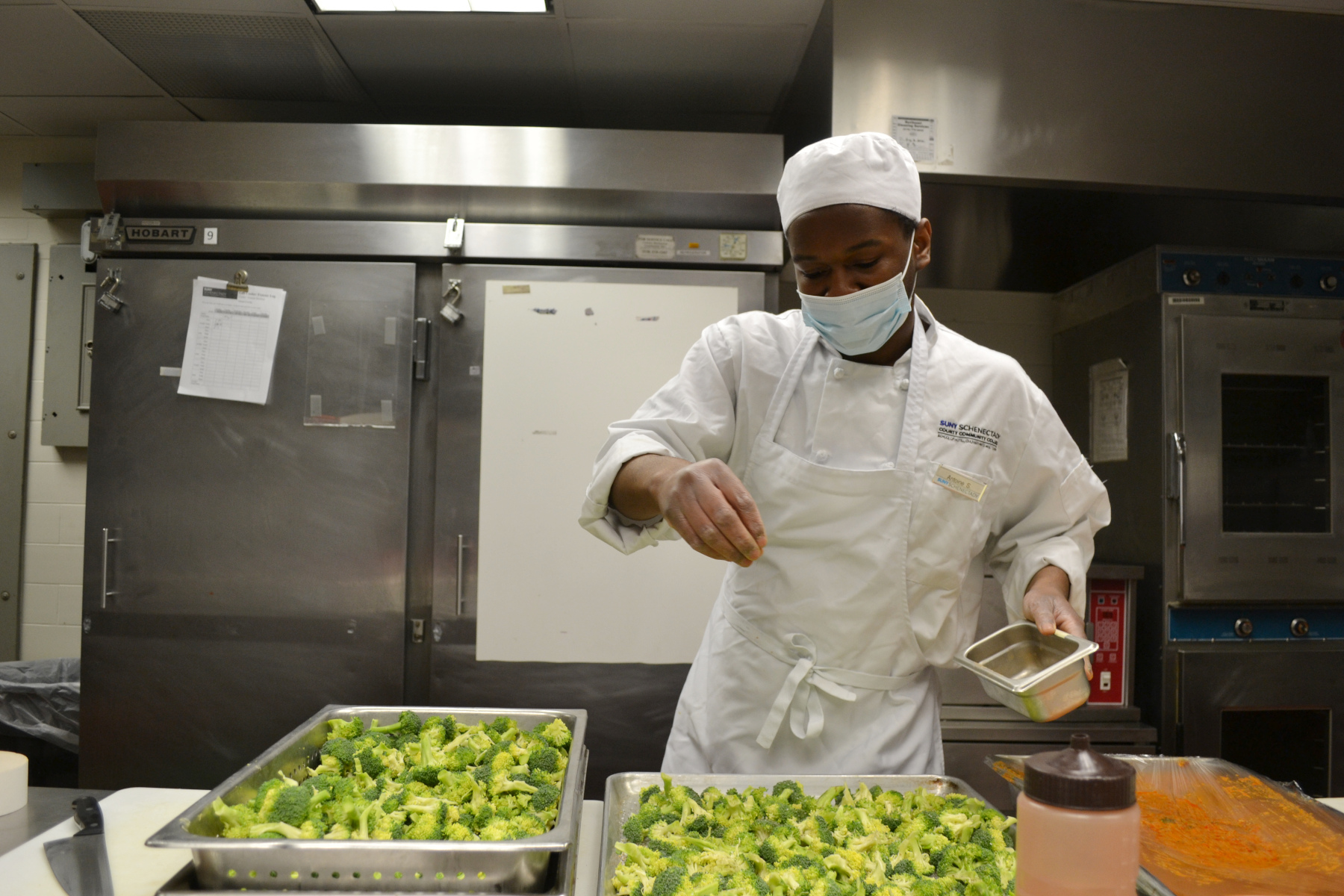 As mouth-watering aromas fill Culinary Arts labs in the Toby Strianese Culinary Arts Wing, student chefs in Quantitative Foods courses eagerly await the next direction from faculty chefs, and students in Banquet Management courses package, inventory, and organize delicious, prepared meals.
Every Wednesday, officers from the Schenectady Police Department pick up the meal boxes that contain a variety of meals and they deliver them to food insecure individuals who live in Schenectady.
Individuals are referred to the Feed Albany program through Albany Medical Center's Cancer Survivorship Program, New York Connects, and local human services agencies. Meals are also provided to Bethesda House in Schenectady and, in keeping with the mission of the College and its Stronger Together mantra, meals are given to the College's Food Pantry to support food insecure students.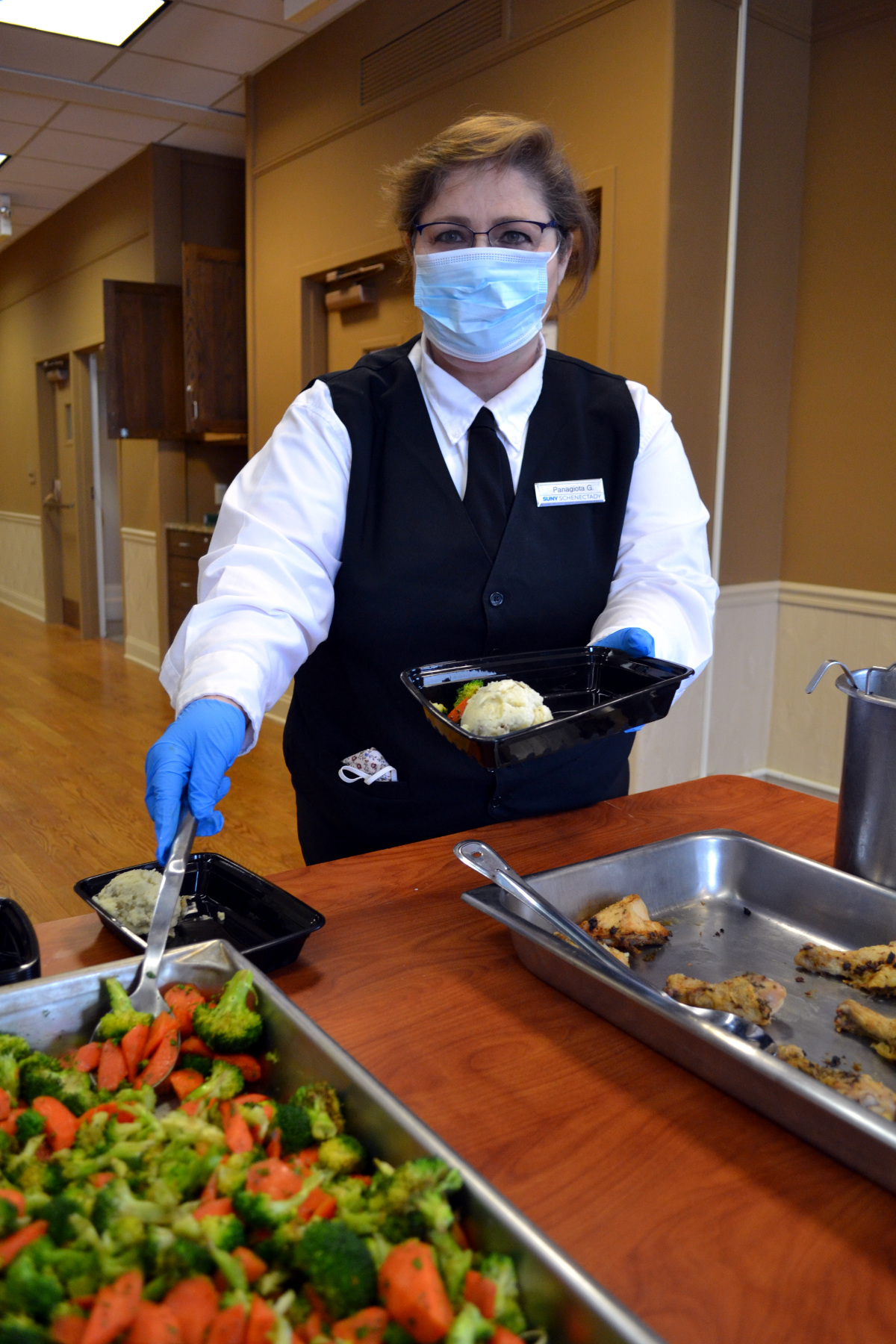 The partnership with SUNY Schenectady is the latest development for Feed Albany, founded almost a year ago by a group of restaurant professionals who wanted to help both unemployed restaurant employees and provide prepared meal solutions to local residents.
So far, Feed Albany has distributed more than 250,000 meals to those in need in the Capital Region. Through its classes, the College plans to prepare 120 to 150 meals each week. Food and packaging is provided by Feed Albany with menus developed by Chef Michael Stamets, associate professor and Culinary Olympian. Meals are prepared by students in the Quantitative Foods courses he is teaching.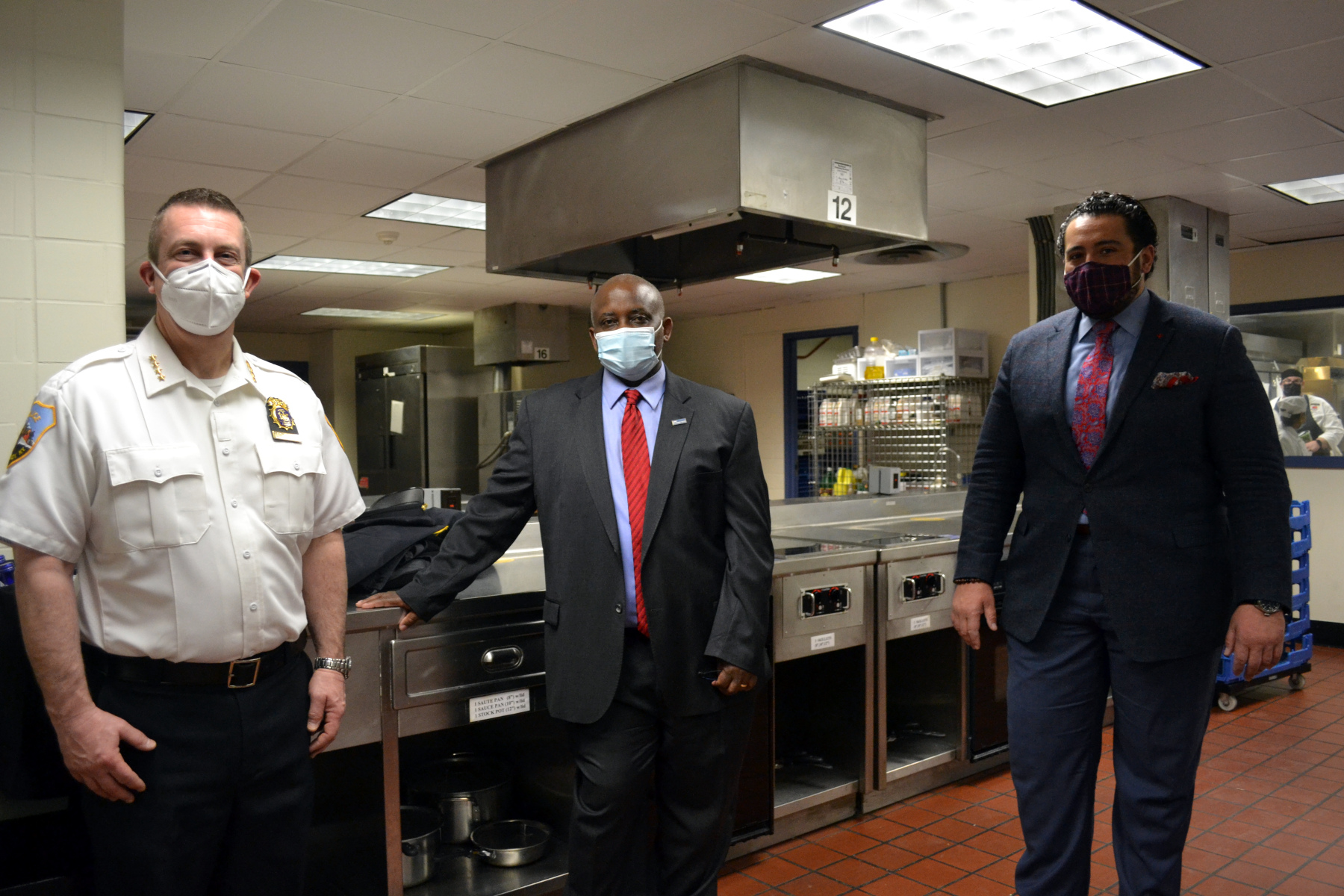 Dr. Steady Moono, president of SUNY Schenectady, describes the College's collaboration with Feed Albany as "energizing" and "inspiring."
"As we witness the impact that Feed Albany has had in our community, we are privileged to join with this group of talented and creative individuals dedicated to helping others," Dr. Moono said. "Our work with Feed Albany is truly transformative on several different levels. We know that for our students, engaging in such a meaningful act of service and kindness while at the same time learning in our labs, is something that they can carry with them throughout their lives."
He continued, "Our faculty are models of ingenuity and adaptability for our students, modifying their courses that normally serve the Casola Dining Room and banquets before the pandemic, so that students are still gaining hands-on experience as part of our accredited degree and certificate programs. We have all seen the devastating effects that COVID-19 has had on so many of our friends, neighbors, family members, and those across the country. Just as we serve our students, SUNY Schenectady serves our community and through this exciting effort we are expanding the ways in which we do so."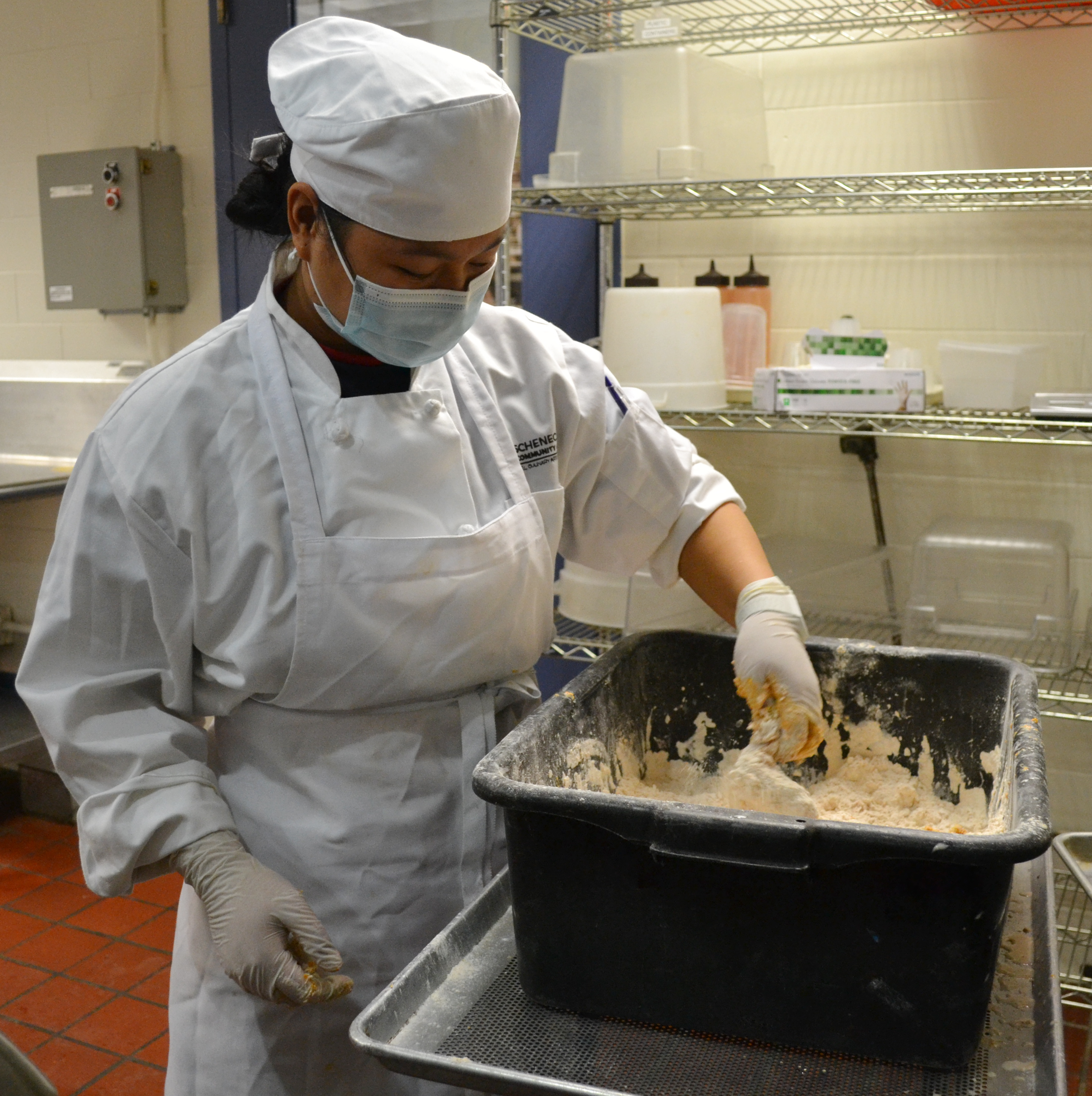 One of the founders of Feed Albany is well-known Albany restaurateur Dominick Purnomo, who is the president of the Board of Directors, and wine director/co-owner of Yono's & dp An American Brasserie. He has been working closely with College faculty and staff on the collaboration.
"We are extremely excited to be working with the Culinary Arts and Hospitality programs at SUNY Schenectady," Purnomo said. "We believe it's a perfect partnership which will not only help the students become better chefs, but will also teach them about community service and that hospitality isn't just something that takes places in a dining room; it's a way of life. This joint venture will help Feed Albany continue its mission to lessen food insecurity in and around the Capital Region and strengthen our ability to serve Schenectady."
Later this month, the College and Feed Albany plan to expand the partnership to the "Feed The City Initiative." Each week, the Schenectady Police Department will determine neighborhoods with food insecurities throughout the city and set up pop-up meal distribution sites for residents of that neighborhood.
Chief Eric S. Clifford and Lt. Michael Dalton, of the Schenectady Police Department, noted that the College's involvement in the Feed Albany program is a natural progression and will fill a need in the city, especially at a time when people are faced with unprecedented challenges both economically and socially.

"Feed Albany has enabled the Schenectady Police Department to make meaningful connections with city residents in need," Lt. Dalton said. "I am excited about the new partnership with SUNY Schenectady. I attended classes there; it is great to have the ability to come back, work with students, and give back to the community."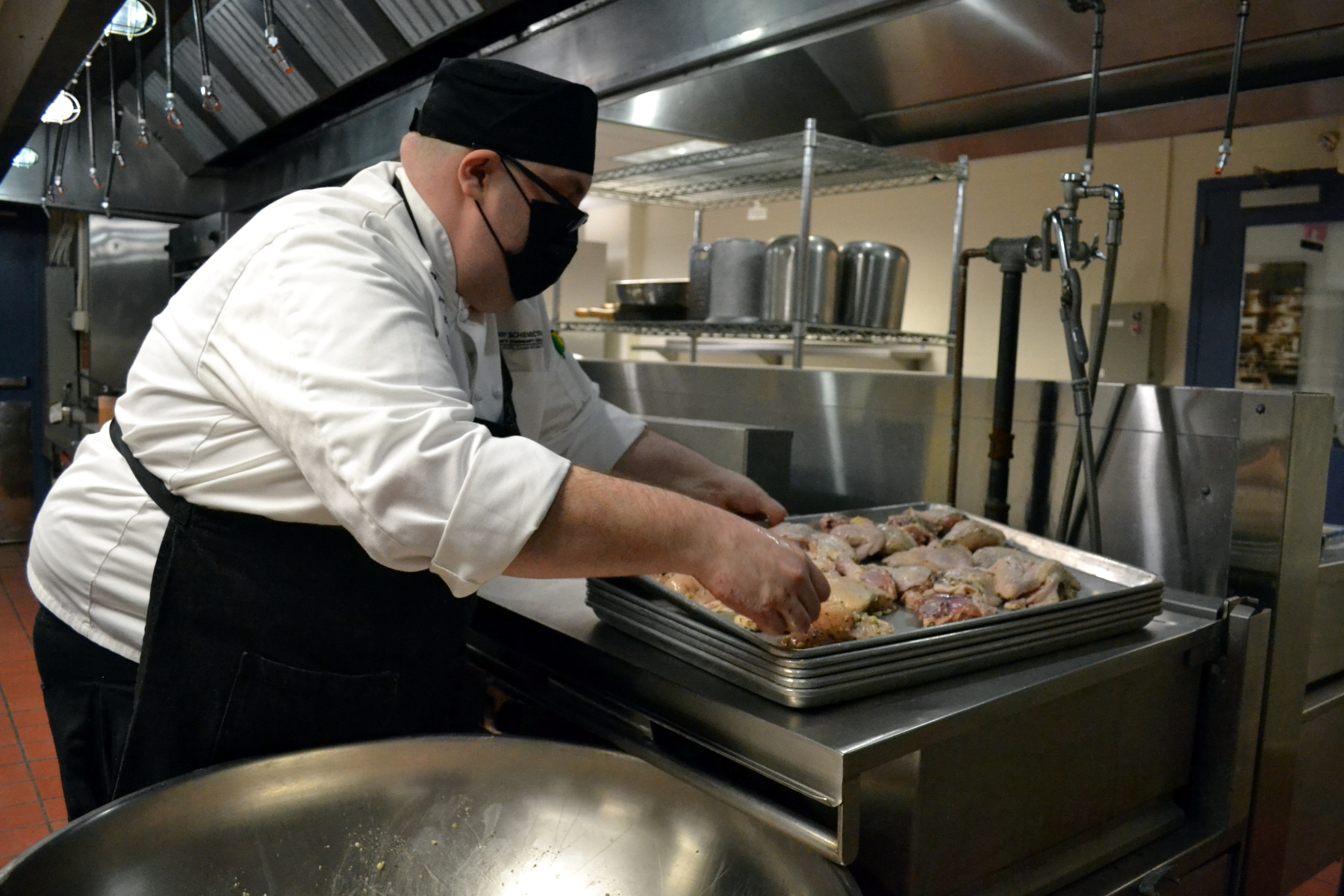 Chief Clifford, a 1992 graduate of the College, said, "Community policing comes in many forms. I recently read a comment from an at-risk individual our department has been delivering meals to. He spoke about the 'wonderful people' who have been providing him with meals and the positive impact it made on his recovery. Seeing the difference we have been able to make in the lives of people through Feed Albany proves this program's value. We look forward to making an even bigger impact with our new partners at SUNY Schenectady and through the Feed the City initiative."
At the start of the pandemic in March 2020 when SUNY Schenectady moved to virtual online instruction, the Culinary Arts program donated perishable items that had been set aside for banquets and events to the City Mission of Schenectady and YWCA of NorthEastern NY.
Since then, the College has donated PPE to local hospitals, an alumnus produced face shields for health care workers and students/faculty, and the College continues to serve as a vaccination site through a partnership with Schenectady County. Ann Fleming Brown, chair of the Board of Trustees, noted that the opportunity to partner with Feed Albany represents another example of the College helping others.
"Our faculty have developed an innovative way to help feed those who have food insecurities, while maintaining excellent learning environments for students," she said. "I can tell how passionate they are about this initiative and that is something that will motivate and impress their students as well."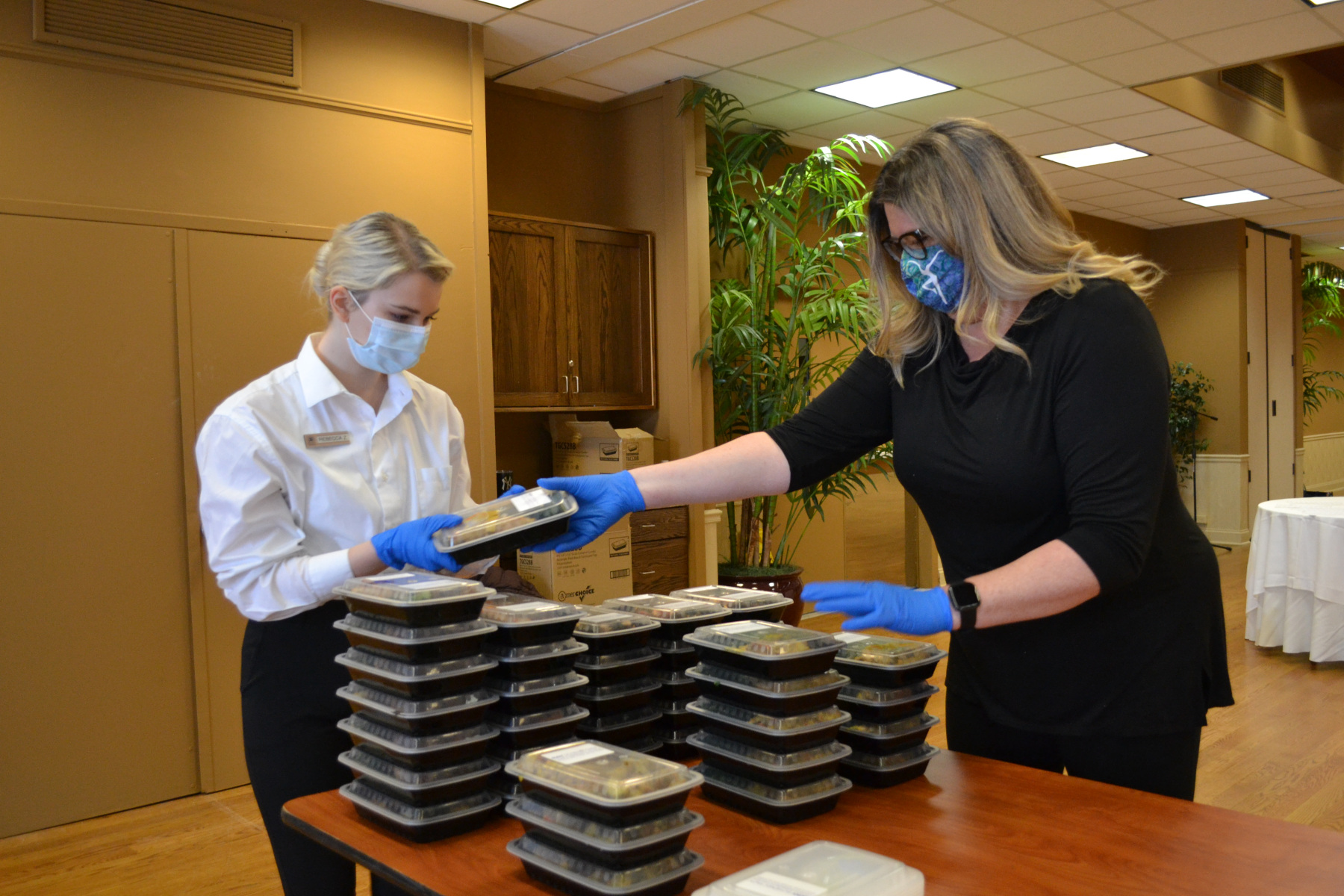 As part of the project, students in Banquet Management courses, taught by assistant professors Kim Otis and John O'Connell, will earn certification in ServSafe Takeout: COVID-19 Precautions training as well as ServSafe Delivery: COVID-19 Precautions training.
Kim Otis described how partnering with Feed Albany speaks to the essence of the profession itself.
"Feeding and taking care of people is fundamental to who we are as hospitality professionals," she said. "I, along with Chef Mike Stamets and our colleagues in the School of Hotel, Culinary Arts and Tourism, needed this to be a chance for us to do something that really mattered. I am so proud and inspired by the potential good this rigorous and meaningful coursework will achieve."