Entrepreneurship certificate
Get Ready to Launch Your Business
The Entrepreneur certificate is designed for students interested in launching their own business ventures or working in start-up companies. Graduates will have knowledge to develop a business plan that integrates information and skills essential to ethical business operations and functions.
In addition to the certificate program, SUNY Schenectady offers an annual Speed Pitch competition in partnership with the Albany-Colonie Regional Chamber of Commerce. Students submit business plans which are judged by a panel of Capital Region experts in business, marketing, public relations and entrepreneurship. The winner receives five hours of business coaching through the Albany-Colonie Regional Chamber. Business ideas have included a Puerto Rican Spice Blend, a specialty bakery in the Adirondacks, a boutique consignment shop, and a bookkeeping service.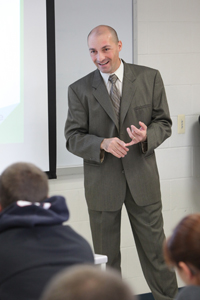 "If you're serious about starting a business, you don't want to spend more time in the classroom than you need to, so we decided to come up with the most efficient way to get you started. This could be for anyone lacking business knowledge. You could come to the realization that you're in over your head. Just because you're good at running a restaurant, doesn't mean you're good at the marketing end of it and that's where this program comes in."

- Matthew J. Farron, Professor
Degree Plan
See the degree requirements and suggested course sequence.
Degree Plan