Integrated Laboratory Preschool
On-Campus Preschool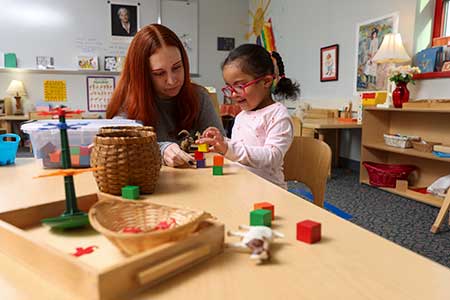 SUNY Schenectady Integrated Laboratory Preschool is the Early Childhood preschool program and classroom laboratory located in the Gateway Building on the College campus. The curriculum demonstrates best practices in Early Childhood Education and Preschool Special Education.
The preschool operates eight hours per day, Monday through Friday, and follows the Capital District Beginnings academic calendar, which includes a summer program component for six weeks in July and August.
SUNY Schenectady Integrated Laboratory Preschool enrolls children ages 3 to 4 years. The Preschool, through a collaboration with Schenectady Day Nursery, is eligible to offer Temporary Assistance to Needy Families (TANF) for child care subsidies which will assist qualified families in paying children's tuition.
For enrollment information, please contact Schenectady Day Nursery at 518-374-6319, or contact the Integrated Lab Preschool directly at 518-381-1295 and ask for Justina.
If your child is registered in the Integrated Lab Preschook, back-up child care might be available.
Hours are 8 a.m. to 3 p.m.
The MONTHLY rates (as of May 2022) are:
Student FT - $500 (now eligible for DSS)
Staff - $600
Community - $700 (now eligible for DSS)
Part time All (4 hours or less a day) - $300