Susan Hatalsky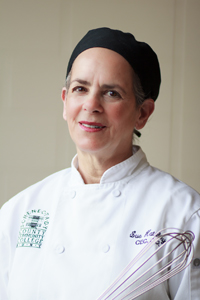 Professor
hatalss@sunysccc.edu
518-381-1372
Elston Hall, Room 313
B.S., State University of New York College at Oswego
A.A.S., SUNY Schenectady County Community College
Certified Executive Chef; Certified Culinary Educator
Sue Hatalsky has a culinary career that spans forty plus years and is extremely broad based. She is a Certified Executive Chef and a Certified Culinary Educator. Sue received her B.S. degree from SUNY Oneonta in Technical Education and her A.A.S. Degree in Hotel & Restaurant Management from SUNY Schenectady County Community College. She has also studied at the Notter School in Orlando, Florida, the CIA in Hyde Park, NY and the French Pastry School in Chicago.
From 1972 to 1989 she owned and operated Joyce's Log Cabin restaurant in Mechanicville. In 1994 Sue accepted her first teaching position at SUNY Cobleskill. In 1997 she moved to Schenectady County Community College where she is a full time professor. Initially hired as a "rounds-person" she has now crossed over to, what her colleagues jokingly call, the "dark side" and focuses all her attention and teaching on classical pastry and artisan bread production. She has played a significant role in the creation and opening of Pane e Dolci; SUNY Schenectady's student operated bakery.
Sue was the president of Blue Moon Catering, Inc., a small successful catering company in the Saratoga Springs area. Fasig-Tipton of Lexington, Kentucky had been her primary client and had kept her busy for almost 20 years. Although seasonal, Blue Moon was a full service catering company overseeing weddings, cocktail receptions, and special events for Saratoga's special summer guests. She retired from catering in 2010 when she fondly recalls "lifting her last crate."
Sue teaches a variety of classes at the Spoon & Whisk in Clifton Park, NY as well as private cooking and baking classes at her home, including artisan bread baking and pizza making in her wood fired oven. Additionally she assists with her daughter's small organic farm. Wing Road Farm has instilled in her an amazing respect for farmers, local agriculture, sustainability and land stewardship.